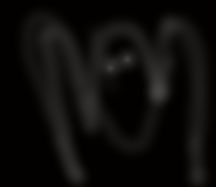 When I was visiting Bunratty Castle near Limerick, Ireland, my friend and I were standing in the upper level of the hallway when I became aware a dog was scratching at the door -- and whining to get in. I said, "Listen to that dog!" but my friend said she couldn't hear it. I said, "It's in here," and opened the door to a small room which obviously had been a huntsman's living quarters, but no dogs in sight.
A few months later in New Zealand another Irish person heard the story and said, "You must be an O'Neill" -- and my friend asked how she knew. She replied, your friend must be related to the "O'Neill of a Thousand Hounds."
. . . Me thinks the "dog" wants in now -- perhaps
you should let him him in.... . .